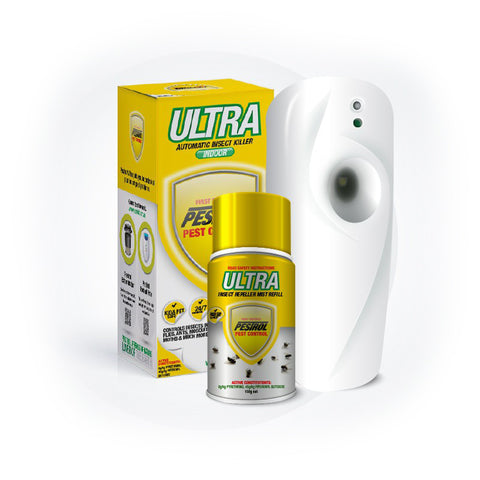 Pyrethrum Dispenser - Indoor
Formulated with Natural Pyrethrins from Tasmania, natures own protection against ALL insects.
Works against:
Flies
Mosquitos
Ants
Cockroaches
Midges
Sand Flies
Fruit Flies
Fles
Moths
Silverfish
Borer (in Flight)
Dust Mites
Do you want a home that is fly free?  Do you want a good nights sleep without being bitten by mosquitoes?  Or perhaps it is a Cockroach free kitchen that you want? If this sounds like you then our Pyrethrum Dispenser is your solution!
Our Pyrethrum Dispenser is a continuous automatic insect killer that includes natural pyrethrins. It's safe around family and pets and you can even leave your doors and windows open.  
Automatic Pyrethrum Dispensers are a highly effective pest control for your home and/or office.
The Pyrethrum Dispenser is fully programmable and is powered by 2 high quality alkaline AA batteries that are included.
The Indoor Unit releases a micro mist (that includes natural pyrethrins) into the atmosphere every 5,10 or 15 minutes, this then travels through the interior by air movement. One single Insect Dispenser Unit will cover approximately 150 square metres or 1500 square feet.  You may need two units if you have a multi story house or need to cover an area bigger than this.

What is included?
1 x Pestrol Indoor dispenser
1 x Pestrol ultra Pyrethrum Refill Can (will last 4 - 6 weeks)
2 x AA Alkaline batteries
Wall Mount.

What Insects does it work on?
The Pyrethrum Dispenser is effective against ALL insects, including:  Mosquitoes, Flies, Ants, Cockroaches, Moths, Silverfish, Borer (in flight), Dust Mites, Midges and so many more.  It can also be very effective against large spiders and geckos, as it will remove their entire food source.

It's Safe
Pyrethrum is derived from the Chrysanthemum daisy flower, which are harvested in Tasmania.  It is completely safe for people and pets.  Completely biodegradable.  Ozone safe.
The US Department of Agriculture states that Pyrethrum is the safest insect control product available.
APVMA Australian Approved and AQIS Approved.
FEATURES
Latest technology in Automated insect technology.
Fully Programmable: Day or Night time setting, 24 hour Operation - 5,10,15 minutes.
The unit can be turned on/off at your own discretion.
Natural Pyrethrins works even with your doors and windows open.
Batteries lasts 18 months.

FREQUENTLY ASKED QUESTIONS
Why is it effective?
Automatic Pyrethrum Dispenser creates a mist of fine micro particles which stays in the air longer to give you better control on insects.

What are the active ingredients?
9g/kg Natural Pyrethrins, 45g/kg Piperonyl Butoxide.

What is Pyrethrins?
Pyrethrins are derived from chrysanthemum daisies which are highly toxic to pests.  Since they are directly extracted from the plant it makes them non-toxic to humans. Pyrethrins are biodegradable and break down very quickly and in sunlight. Mother nature is very smart and unlike synthesized chemical replicas - the daisies changes its smell constantly so that the insects dont get immunity against it.

What is Piperonyl Butoxide?
Piperonyl Butoxide is an organic compound and a synergist used to enhance the killing power of active ingredients.  It also helps reduce the amount of the main active ingredient used.  

How long does it take to work?
Within 30 minutes you will see a significant improvement in the elimination of Flies, Mosquitoes and most common household insects.  After a few days you will also notice a substantial decrease in Cockroach activity.

How long does a refill last?
The lifespan of your refills will depend on the frequency and settings used. On average, a single can on a 10 minute setting will last up to 6 weeks.

How many Units do I need?
One dispenser on average will cover a standard 2-3 bedroom home (approximately 150sqm).  You may need to two units to cover multi level or larger homes.

Is it safe to use by people with allergies or asthma?
Completely safe when label instructions are followed.  However if you are prone to allergies that you consult your doctor before use.

Where can I Buy Refill Cans?
You can Buy Pestrol Refills directly from the website in different packs.  You can also call us on 1300 667 664 and order over the phone or visit our showroom.

Can I Use the Indoor Unit Outside?
If the area is partially enclosed the unit will work effectively.  However, make sure to use on the shortest setting.  If the area is completely open, then the air circulation will affect the Indoor unit's effectiveness.  We recommend to use the Outdoor Unit for outside, which disperses micro mist every 30 seconds.

What are the precautions?
Don't spray directly onto food.
Keep away from fire or direct sunlight.
Keep out of reach from small children.
Should not be placed directly above or besides fish tanks.
Do not place it on or above white goods.
---
We Also Recommend