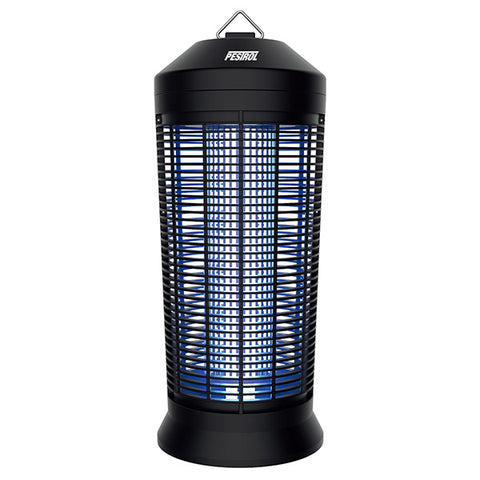 Executioner Bug Zapper - XXL
Executioner Bug Zapper is the big bertha, the largest outdoor Bug Zapper for Australian conditions!. This Insect Zapping machine is the latest technology in Australia to combat the annoyance of insects whilst we try to enjoy our outdoor areas.

Robust and weatherproof.

We have managed to reduce the wattage down from 50W to 36W which makes it cheaper to run than our previous model, however, the globe technology has a greater attraction rate. This Bug Zapper provides heavy-duty protection for large backyards. This Bug Zapper is for larger outdoor areas and will assist in reducing any flying insects such as Mozzies, midgies and moths.

The Executioner Bug Zapper includes a 36W UV lamp that is mounted within a stylish and robust weatherproof casing. Like the other smaller insect zappers we sell, we recommend that placing the unit above 2 metres to gain optimum results. Ensure that the unit is placed away from other competing light sources or human activity. The vertical grids mean the dead bugs drop directly from the unit, minimising cleaning like other units on the market that use the older style horizontal grids.

Insects simply get electrocuted whey they touch the inner protected high voltage grid (Industry-leading innovative high voltage grid for durable use to ensure increased killing rat). The insects then drop into a removable dry storage chamber. Great to add to the garden for extra nutrients.


FEATURES
Indoor and Outdoor use
Chemical Free
300m2 Coverage
Easy Tube Replacement
IPX4 Waterproof rating for outdoor use.
ASB Fireproof Plastic Construction
UV-A Lamp technology for superior attraction.
Optional hanging or free-standing.
Great for larger homes or commercial use.
Detachable collection tray for easy cleaning.

This big daddy of insect zapper excels at killing insects due to its transformer that is built into the unit. This has the advantage of providing a more sustained burst to kill even larger pests. Other products on the makers rely on circuit boards that are less effective and use more electricity.

The UV lamp has been designed to produce a peak light output at a wavelength of 365nm in the UV-A band. Mosquitoes and other light-attracted pests are naturally attracted to this wavelength. Attracted pests include mosquitoes, moths & midges – pests that are most active from dusk till dawn.

Looking for a commercial grade Mosquito Trap without the zapping; consider our Outdoor Dominator


SPECIFICATIONS
Meets Australian & New Zealand Electrical Safety Standards
Designed and manufactured for Australian conditions
Power 36W
The high voltage of the inner grid: 4000V
Measurements: Height 555mm x 232mm x 232mm
---
We Also Recommend